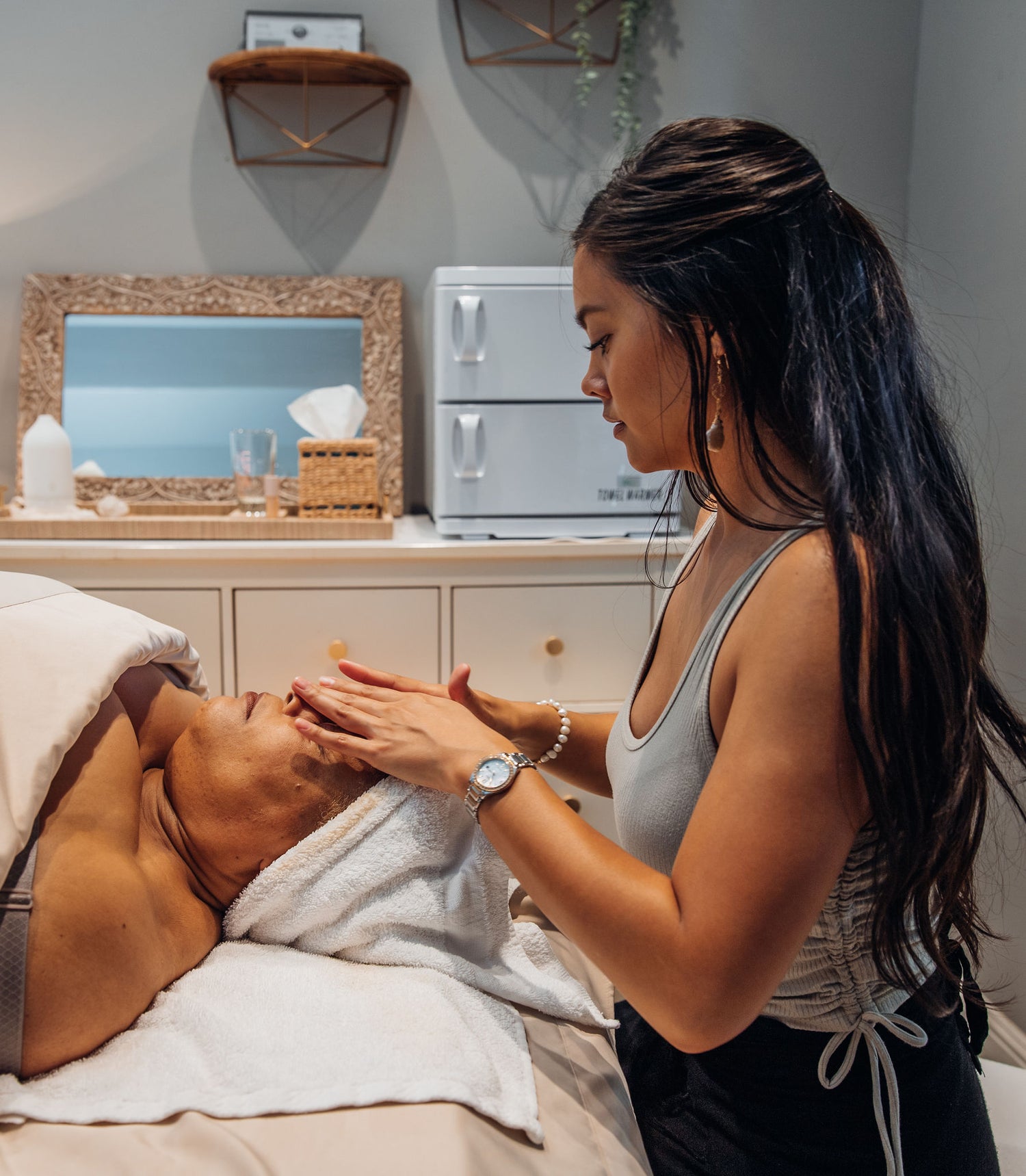 Hey, I'm Sabrina!
Your esthie bestie when it comes to all things skincare, beauty products, and bespoke facials! I'm a licensed esthetician, here to help you on your journey to skin wellness. I offer customizable facials, and self-care products, all served with a whole lotta aloha!

I got into the skincare industry because of the deep, cystic acne I dealt with in 2015, and throughout my college years. It was strongly due to the emotional and mental stress that I went through at the time. For some, one might face gut health issues, or hair loss from high-stress moments in their lives, whereas for me, it was reflecting in my face. That's when my own journey to skin care wellness really began. As an education major, my knack for loving to learn was met with understanding more and more about the science behind skincare ingredients, and why they perform results the way that they do. I soon realized that my caring intent for helping others, and love of skincare could be more than a passion, and become my career. Thus, here we are on my very own website, and I'm thrilled that you even stopped by to check it out! I hope you stay a while, and enjoy a piece of my heart that is SMB.💗🤙🏽
About SMB
What started as a mobile service for at-home, bespoke facials, also brought out another branch of my business: sharing handmade beauty products with my clients. I love all things beauty and skincare, and it's truly all about the experience for me. So why not share my most favorite products with my most beloved clients? I wanted you to be able to have a little piece of Sabrina Monique Beauty at home, even after your facial with me.

I hand make everything from body glow oils, to lip gloss, and everything under the sun that I truly enjoy. With each product, I've designed my own version of it with a story behind it to match. Like how the body glow oils were a way to help remind my clients that no matter what went on in their lives, they were still going shine and get through. For in my spa room, so much is shared, that the care I have for each person that comes to me goes beyond myself. With mindful details, and a touch of aloha, Sabrina Monique Beauty facials and products were born.

The environment and aesthetic I create for my facial services, along with my products, aligns with the pure intention of achieving wellness for others. Both of which were curated to be the right place for a person like you, with a business like mine. I only hope to bring the community a space to gather, relax, and enjoy an experience, not just a destination. So are you in? Tap the contact page to learn more.